Let's delve into the realm of gaming in affiliate marketing. This essentially means discussing those gaming products and affiliate marketing programs that gamers look to be affiliated with. I've already explored affiliate marketing in one of my previous blogs. If you wish to learn more about this field in-depth, you can do so by checking out my blog on Affiliate Marketing.
What is Razer?
Razer is one of the leading brands in the gaming products and equipment sector. They build and design hardware and software products and services for gamers around the world. The company has an instantly recognizable logo amongst the worldwide gaming community.
It claims to be the ' leading lifestyle brand for gamers '. It sells standard and custom-made Personal Computers, consoles (Nintendo Switch, PS4, PS4Pro, PS5, XBOX 1, 1x, and XBOX Series X1S), accessories, and related equipment including headphones, chair, controllers, mouse, and mouse pads. As well as video game titles.
Razer strives to enhance the image of gamers that associate themselves with their products.
Razer Marketing
This game seller conducts its marketing activities in a variety of ways. Social media marketing and promotion are wide;y conducted. Increasingly, they have diverted more focus towards running affiliate programs and acquiring deals, like sponsorships with world-renowned gaming celebrities.
Razer induces prospective partners through their cutting-edge peripherals.
Furthermore, it aims to transform its customers' perception, both in-game and in real life.
Razer Affiliate Program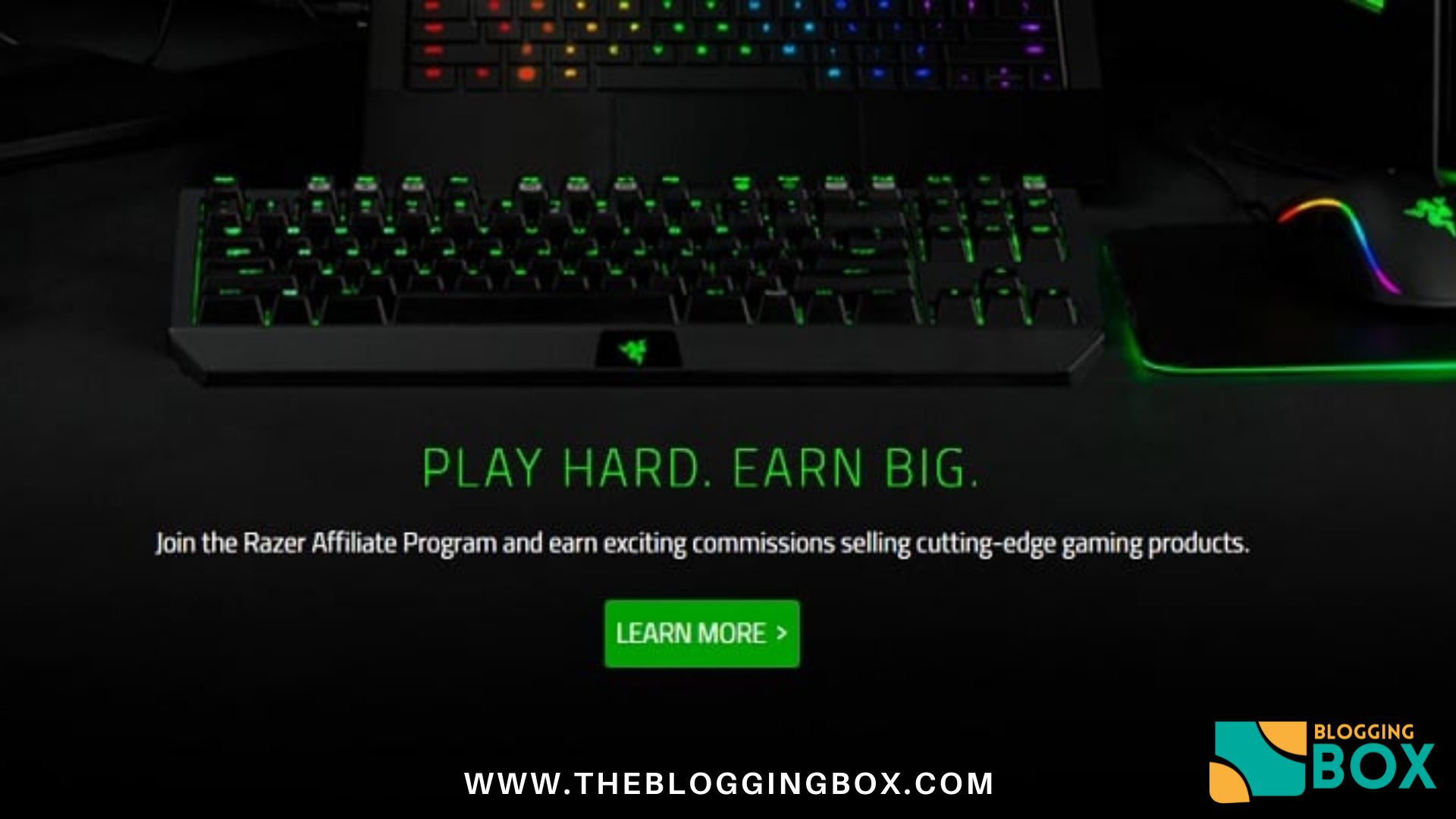 You can sign up for the Razer affiliate program without any hassle, as it is completely free. There is no fee for signing into the Razer Affiliate Program. What's more, marketers can back out of the affiliate partnership anytime without facing any repercussions.
A distinction has to be made between being an affiliate partner of Razer and being sponsored by Razer. There is also a difference between the Razer Streamer Program and the Razer Affiliate Program.
Razer affiliate marketing also takes place in the shape of text links, and banners placed strategically around the content created on the affiliate's website. Having or operating with high-quality sites is definitely a plus point.
The potentially motivated partners can earn commissions by being able to drive traffic onto their website and then attempting to refer visitors to purchase Razer products on Razer's website through a variety of text links.
The Prerequisites for Acceptance
Given Razer's stake in the industry, their entry requirements for affiliate marketers and businesses are comparatively simple. First of all, you need to have your own website to apply to the Razer affiliate program. The only other condition is that you should be 18 or older.
During the application process, if the website of a prospective Razer affiliate partner contains any hint of sexually explicit content or any form of objectionable material that offends individuals or communities. Their proposal will be declined without question. 
They review each application carefully within the context of their established guidelines.
Types of Affiliate Commissions offered by the Razer Affiliate Program
A Razer affiliate partner can also earn commissions based on their current promotions. As the world's leading gaming brand offers an array of choices to the Razer affiliate partner.
Initially, the Razer affiliate program offers a 3% commission on the sale of razer products. Regardless of the category of the product or service.
Alternatively, you can enjoy a $5 commission on the purchase of each system by customers.
Razer affiliate partners can also earn up to 10% commissions on the sale of Razer products.
No commissions will be paid out in case of returns or refunds.
Moreover, commissions are exclusive of handling, shipping, returns, and sales tax calculations.
How are the Commissions Paid out?
Commissions are paid after monthly net sales are accounted for and locked in. Affiliate partners may have to wait for one month and 15 days for the lock-in and an additional period of 23 days till they receive the month's commissions.
How to track sales and the corresponding Commissions
With Razer's already established affiliate network interface, partners can access daily reports on metrics such as sales, orders, click-throughs, and updates on commissions earned.
Razer Sponsorship
Sponsorship involves a unique kind of relationship. It allows famous gamers and streamers to become an ambassador or the face of the brand. It entails an official arrangement between the two parties. Razer may also find personalities who will endorse Razer's cutting-edge gaming products and speak highly of the brand in front of their audiences.
Often, such relationships can entitle the influencers to free products. Moreover, these influencers can also create hype around Razer by involving themselves in launches and new product releases.
Razer Sponsorship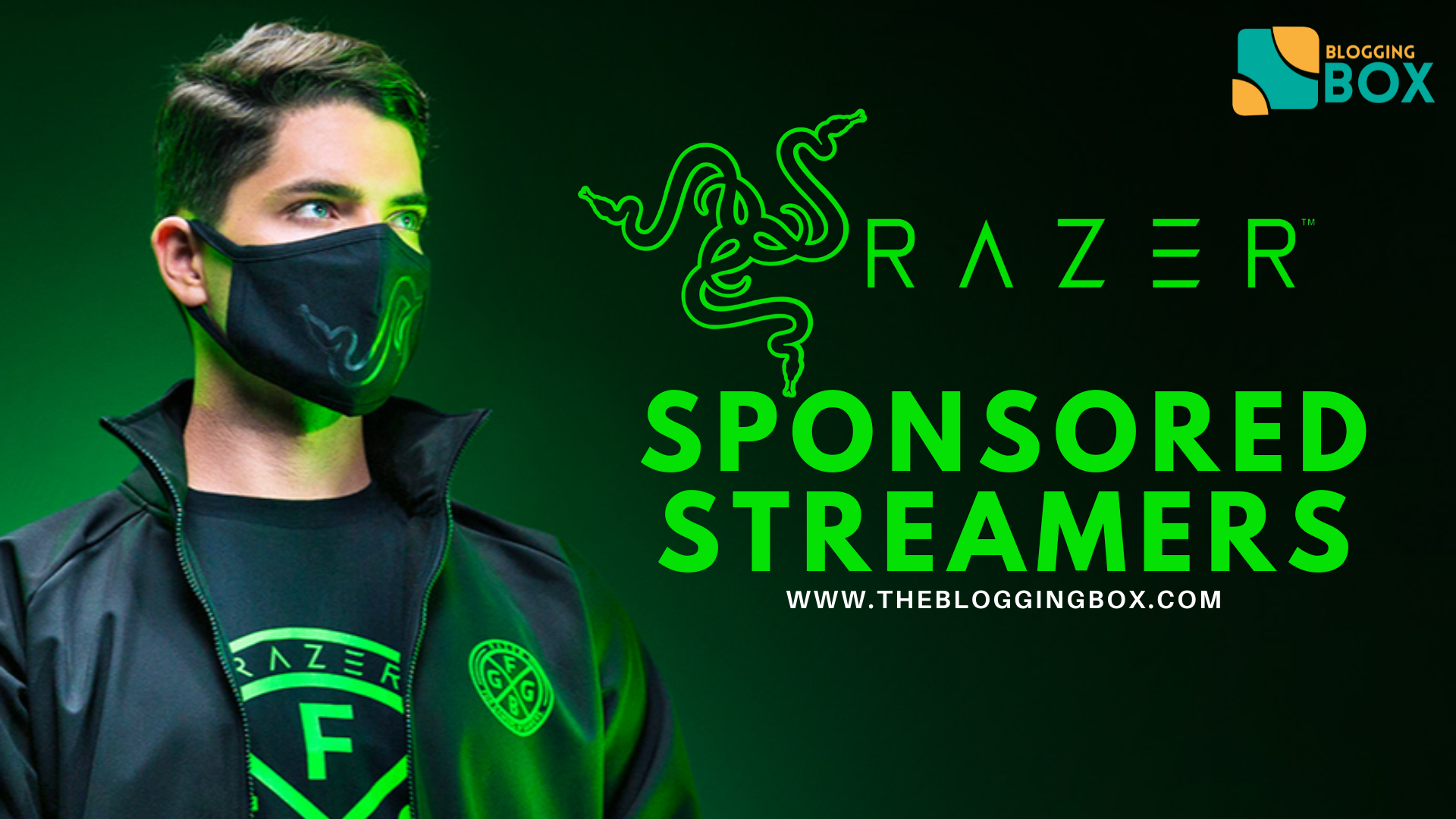 Ideally, sponsorships usually go out to teams from the Esports scene. These agreements can have a start and end date, after which Razer can either look to prolong the deal by adding months or one extra year. Or alternatively, they can look to sponsor new teams and players.
Razer Sponsored Teams
The line-up of teams that Razer sponsor range from Fnatic, MeetYourMakers, and Dignitas. If we were to dabble in the full extent of sponsored teams, the list would look like this: Alliance, Copenhagen Flames, Guild, Envy, Knicks Gaming, KRC Genk ESports, JD Gaming, Ninjas in Pyjamas, MAD Lions, William ESports, Tribe Gaming, Yoshimoto Gaming, Team Queso, x-com Ago, Beyond Gaming, Bren Esports, MOUZ, Father's Back, OpTic, OpTic Texas, EDG, Bacon Time, DRX Vision Strikers, Hanwha Life Esports and Dallas Fuel. They play an assortment of competitive games ranging from Fortnite, Dota, sports-based video games, and a whole host of strategy and first-person shooters. 
Razer Sponsored Streamers
The array of Razer-sponsored streamers includes Cau7ion, Fuudo, and Faker. The streamer contracted to team Razer is RZR Xian. 
Conclusion
So, it can be seen that Razer has endowed the general public with the opportunity to earn an income by referring their products. The simple terms are also a massive contributor to making this an intriguing prospect. Video game enthusiasts are beheld with this amazing chance to apply their knowledge successfully and guide consumers to the products of their interest.