Do you like to eat? If you enjoy eating and experimenting with new recipes, you can easily earn with a food blog, which could be an excellent way.
Do Food Bloggers Make Money?
YES! By all means, they do.
Pinch of Yum is a well-known food website. But how profitable is it? When it comes to food bloggers, we all have this question. This particular blog has proven to be profitable enough to be a full-time job for the husband-and-wife and the team that runs it.
How do food bloggers make money?
How food bloggers make a living has long been a mystery, but thanks to the Ostroms, we now understand how they work as a business. They primarily make money through advertisements and sponsored content, but they also make money through Amazon partnerships and their e-book.
Pinch of yum revenue
The Ostroms started disclosing the blog's earnings in August 2011, when they earned a pittance of $21.97. They launched an open investigation into the Food Blogging Money Making Experience. And they were successful. When you look back over the years with them, you can see how their earnings have increased, sometimes surpassing $90,000 in a single month. It's true.
Lindsay and Bjork Ostrom, the blog's creators, have been working on Pinch of Yum since 2009 and made it their full-time job in 2014. Bloggers share beautiful photographs of delicious cuisine, uplifting us to return to the kitchen. Few other food bloggers do something similar: they post their total revenue and costs online for everyone to see. But, of course, more money brings with it new problems, specifically expenses. Pinch of Yum spent $28,505.27 in the previous month (November 2016) while earning $95,197.34. As a result of their efforts, their profit was closer to $66,692.07, which isn't bad for a month work.
They earned $802,144.55 (December 2015 to November 2016). During the same period, their total spending was $293,014.38.The most recent earnings report was issued in December 2020, which is Net Worth $1 Million – $5 Million (Approx.).
Of course, not every blog is as successful as this one; some maybe even more profitable; however, success requires hard work, determination, talent, and a craving for great taste.
Now that we've cleared how much money you can make with a food blog, let's move ahead.
Food Blogging Pros & Cons
Food blogs are undeniably popular and the quickest and simple way to make money. However, success requires strategy, follow-through, and perseverance, just like any other work from home. Before starting your food blog, it's a good idea to consider the pros and cons.
Pros
You'll be able to turn your cooking passion into a source of income.
It is possible to get started quickly and economically.
Advertisements, affiliate programmes, and sponsorships are all ways to earn.
There are opportunities for growth, such as cookbooks and television shows.
Cons
To be successful, your blog will require new content regularly, which will require a lot of food preparation and coming up with unique ideas.
You should adequately photograph your cooking process and final cooking results.
Your blog may require some time to gain a large enough following to generate a significant profit.
Getting Your Food Blog Started
Before you make your first meal or begin photographing food, it's a good idea to brainstorm a few ideas for your blog. Also, keep in mind that blogging is a legitimate business, so pay attention to legal issues like business permits and self-employment taxes.
The following are nine essential recommendations for starting and monetizing a food blog:
1. Determine the type of food blog you'd like to start
Even in the food industry, niches attract a larger audience than broad topics. Gluten-free, low-carb, low-sugar, vegan, and low-cost cooking are all food options to consider. You can also focus on a specific cuisine, such as chocolate or side dishes.
2. Choose a Blog / Domain Name
Choose a descriptive and available name as a domain name for your food blog. When choosing a name, be selective but not so specific that it restricts you from expanding on your concept. A chocolate candy blog, for example, would be too narrow, so consider a name that includes chocolate cookies and cakes, as well as dinners.
Technical Information
When it comes to creating an online blog, you have the option of doing it all yourself or hiring someone to help you. Many freelance work sites, such as Upwork.com and Fiverr.com, have workers who can set up many components needed to develop your blog's online presence.
3. Get a Domain Name and Web Hosting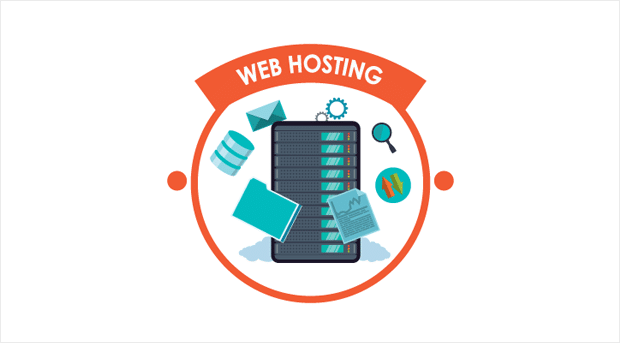 While it is possible to start a blog for free on sites such as Blogger or Weebly, the most popular and profitable blogs are also self-hosted. Many web hosting companies will include purchasing a domain name when you sign up for an account. It can also be purchased separately. Choose a web server that will allow you to install WordPress quickly. There are so many content management systems, but WordPress is the most widely used and easiest to learn.
4. Install WordPress to Your Web Hosting Account
Consult your hosting provider for instructions on doing this from within your account. Once installed, select a theme that goes well with food. You can find a "food" WordPress theme and install it from your WordPress dashboard. For the most outstanding results, choose a responsive theme that adjusts for easy reading on tablets and smartphones, is search engine optimized, and is simple to navigate for readers. These themes are free, but if you want more customization and features, you might purchase one.
5. Install Plugins to Maximize Your Site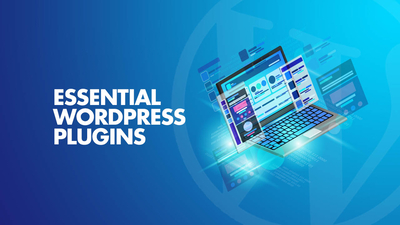 For comment spam filtering, Akismet is one of the essential plugins you should install. Then there's a social media plugin that allows people to share your content on Facebook, Instagram, and other platforms. Plugins help your site load faster and use less bandwidth from your host. A contact form plugin is required because posting your email address on your blog will result in spam. Google Analytics and gourmet plugins like EasyRecipe will allow you to enter and print recipes while quickly optimising them for Google.
6. Create an Email List
Email lists may help you generate more revenue. You can send an email to your list informing them of the latest recipes and reminding them to return to your site to see your monetization choices. You can also send out email advertisements and special offers. Put a sign-up form on your blog and use an email service. Provide ingredients or c0oking videos to new freebies to push them to enrol.
7. Include Recipes
Include 10 to 15 recipes right away to give readers a variety to choose from. After that, make a blogging schedule that includes many recipes per week. When adding recipes, use attractive images and provide clear step-by-step instructions to your audience.
Do food bloggers make their own recipes?
Yes, food bloggers make their own recipes as well they made changes to the original recipe. For example, If it's Granny's recipe, new ingredients are added given the unique taste according to new food trends.
Spreading the Word
These last two suggestions are for attracting readers to your site and increasing traffic so you can start earning money.
8. Promote Your Blog
People aren't finding and reading your blog just because you made it. People can't read something they've never heard of. You cannot rely solely on search engines to generate visitors and traffic to your blog, even if the page is optimised for them. You must develop a marketing strategy that includes concepts such as:
Set up different social network profiles, such as Pinterest, Facebook, Instagram, and Twitter, to share your recipes.
Creating videos for your website as well as uploading them to your YouTube channel
Use content enhancements to attract readers' attention and increase email sign-ups.
To reach your target market, write articles and guest posts for other blogs and websites.
Using repurposed blog content as promotional materials.
There are numerous low-cost and no-cost options for promoting your blog. Don't forget to consider offline marketing.
9. Monetize Your Blog
Making money requires traffic, which is why you must market your blog before monetizing it. However, once your site has a following, you can add earnings features. Among the options available to you are:
Google AdSense and other contextual advertising programmes are available.
Affiliate programmes, such as Amazon Associates, will provide you with affiliate links.
Look for sponsorships.
Make your cookbooks.
Offer online classes.
Healthy Food Blogs to Inspire & Get You Started
These days, people are curious about their food's source, preparation, and effects on their bodies. It can be seen in the field of food blogging, where healthy food blogs are sprouting up all over the place.
A healthy food blog has a large potential audience, whether people want to lose weight, build muscle, or live longer and disease-free lives.
This tutorial will define a healthy food blog and list 10 of our favourite healthy food blogs to get you started on your next blog project.
Definition of a Healthy Food Blog
This is a challenging question to answer, which is a good thing. There is no single, universally accepted definition of "healthy food." For some, this means vegetarian meals high in omega-3 fatty acids.
It's vegetarian recipes for your favourite cuisine that you can share with others. Others prefer the idea of "clean eating," which includes low-carb and sugar-free options. It could be as simple as putting sweet potatoes in the slow cooker for you.
This variety of content creates an opportunity for healthy food blog authors to identify themselves. If you've had experience preparing and eating food that's beneficial to your health, starting a blog to promote your healthy recipes and eating philosophy might be a worthwhile endeavour.
Please review the facts below to see the scope of health food blogging. You'll be inspired by meal ideas, free recipes, and stunning food photography.
Jessica in the Kitchen is dedicated to whole-food vegan and vegetarian recipes, illustrating how delicious meatless eating can be. She also writes on food travel, which can be challenging for those who do not consume animals or animal products, in addition to recipes.
Must-Try Recipe: King Shepherd's Pie.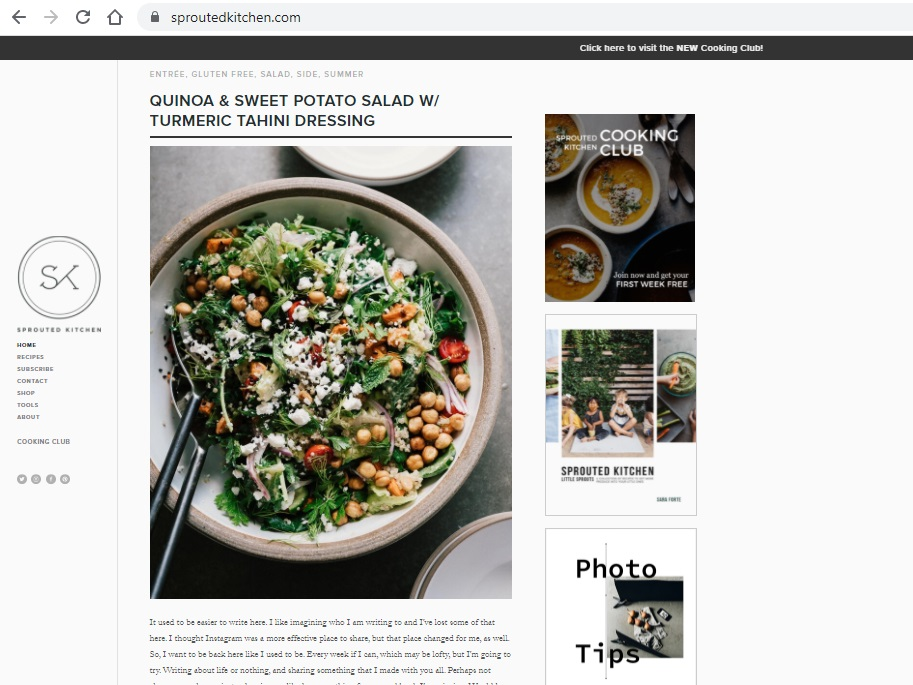 Sara Forte's blog focuses on vegan and vegetarian cuisine with particular characteristics. Sara, for instance, runs a virtual "cooking club" where home cooks may connect and receive special recipe training. It's a social way to food preparation.
Sara also infuses her meals with relevant personal experiences. Sprouted Kitchen is a personal parenting blog and a healthy food blog about being a little child's parent. It's an outstanding example of combining multiple passions into a single blog post.
Must-Try Recipe: Greek Yogurt Ice Cream.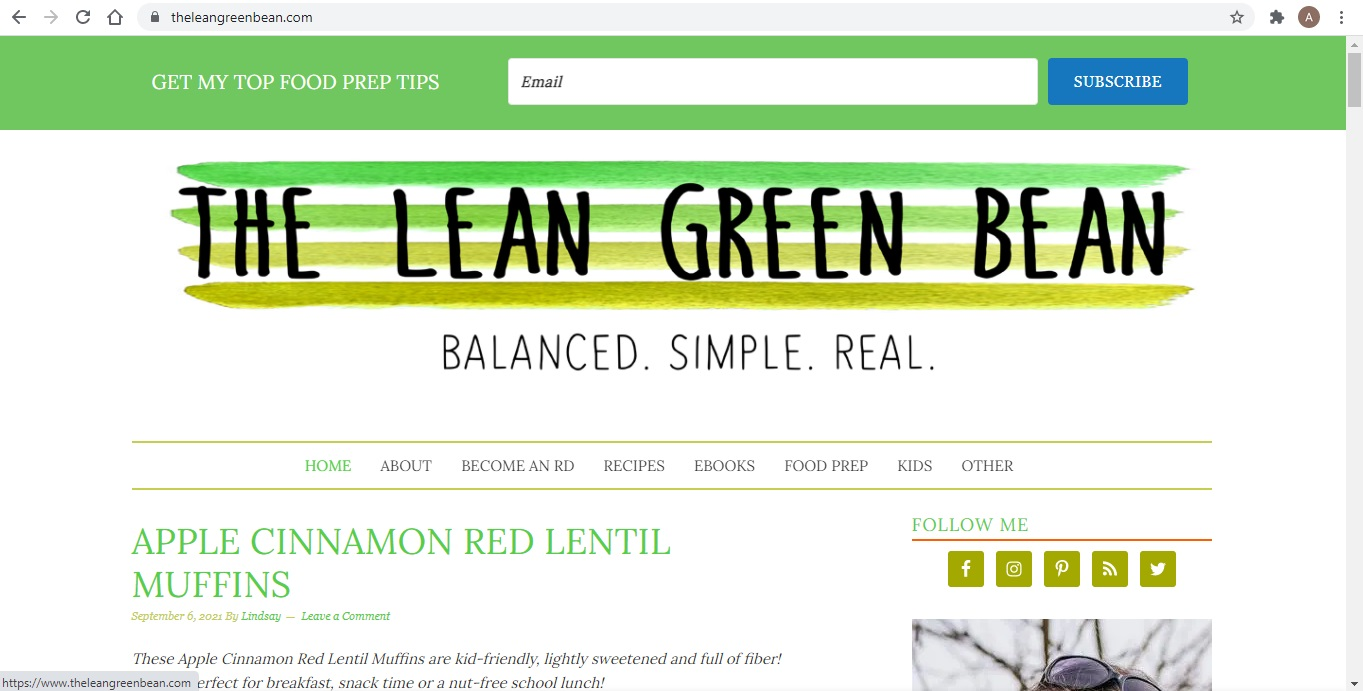 Lindsay is a registered dietitian with a strong commitment to healthy living. Her blog has a variety of nutritious recipes, nutritional facts and exercise recommendations, and information on how to become a registered dietitian. Oh, and there are some fantastic tips for parents who wish to start their children off on the right foot with healthy eating habits.
Must-Try Recipe: Sweet Potato Apple Cranberry Crumble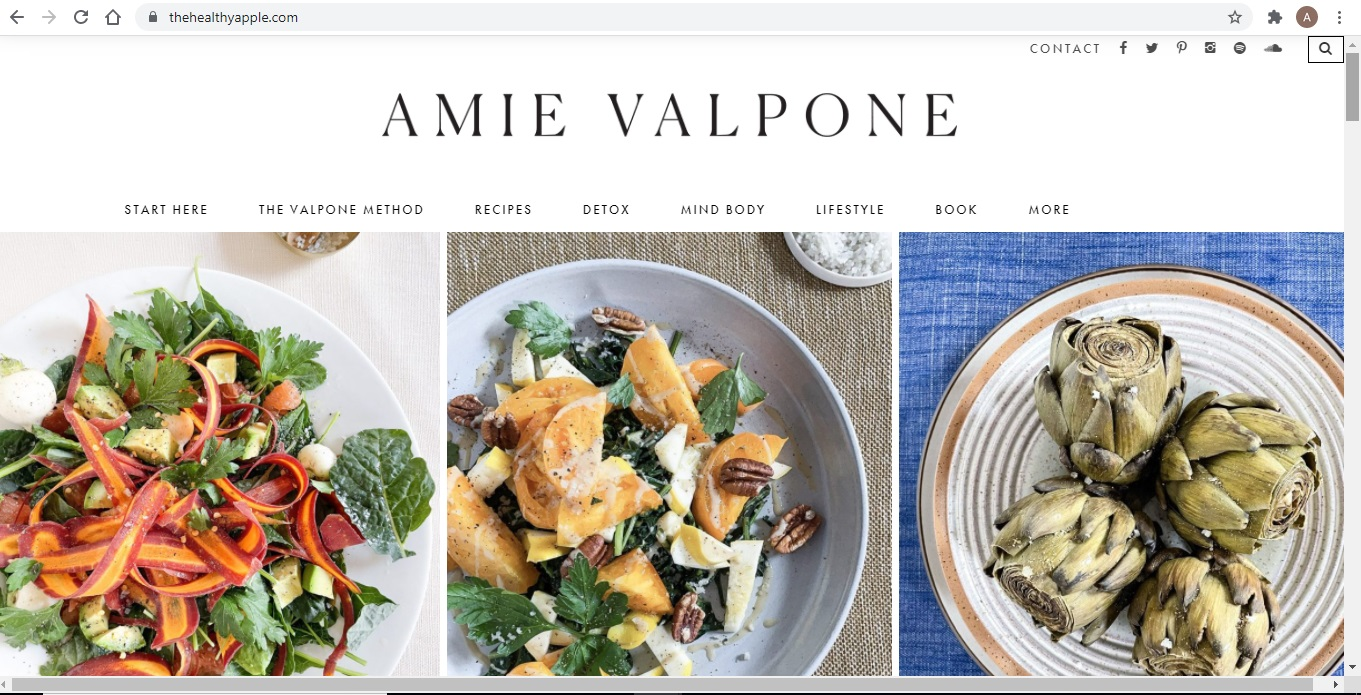 Amie Valpone is the founder of The Healthy Apple, a website dedicated to supporting you in eating in an anti-inflammatory and detoxifying manner. However, it is not solely a matter of what you eat. Additionally, the blog gives suggestions on sleeping better, naturally cleaning your home, and living a more spontaneous and joyous life.
Must-Try Recipe:  Roasted Squash Salad
'Naturally Ella' is a seasonal vegetarian food blog that draws inspiration from the pantry. We admire her website's organisation around ingredients. It enables you to construct something utilising ingredients you already have on hand (rather than relying on takeaway) and show the numerous ways a single component may be used.
Many food blogs assume you already have an exotic pantry and never explain how to assemble one, so the emphasis on stocking your pantry is refreshing.
Must-Try Recipe: Quinoa Falafel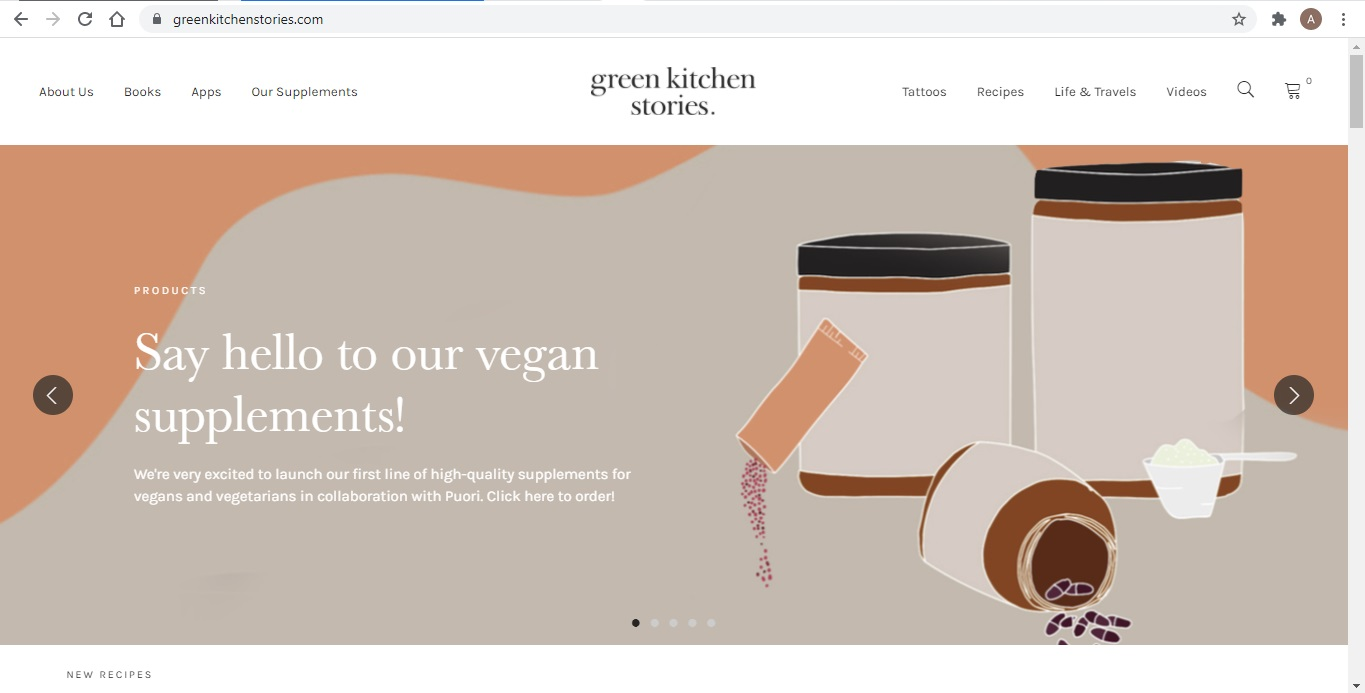 Green Kitchen Stories shows that abstaining from meat does not always equal a healthy diet. Vegetarianism can be advantageous if the proper recipes are followed and consumed the necessary nutrients.
Green Kitchen Stories will assist you in your endeavour, emphasising vegetarian and healthful fare. Additionally, we appreciate the close-ups of the various delicacies.
Must-Try Recipe: Soup with Rhubarb, Ginger, and Strawberry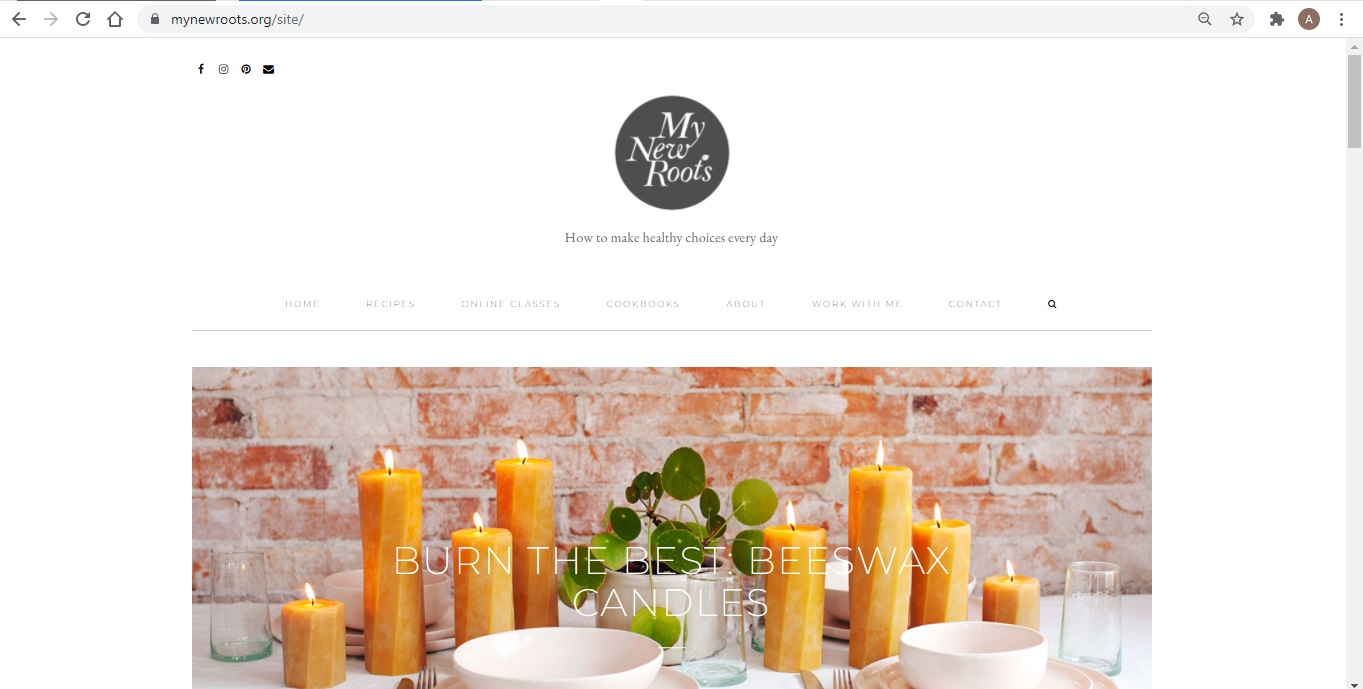 My New Roots is a vegetarian, vegan, and raw vegan culinary website. However, there is much more to it than that. It teaches readers how to make nutritious food choices and cook nutritious cuisine. Finally, no matter how healthy your diet is, it will be ineffective if you do not get enough sleep, exercise frequently, or work to reduce excessive stress.
This comprehensive approach differentiates this site, and it's worth considering if you're launching your healthy food blog.
Must-Try Recipe: Tempeh Tacos with Raw Cashew Queso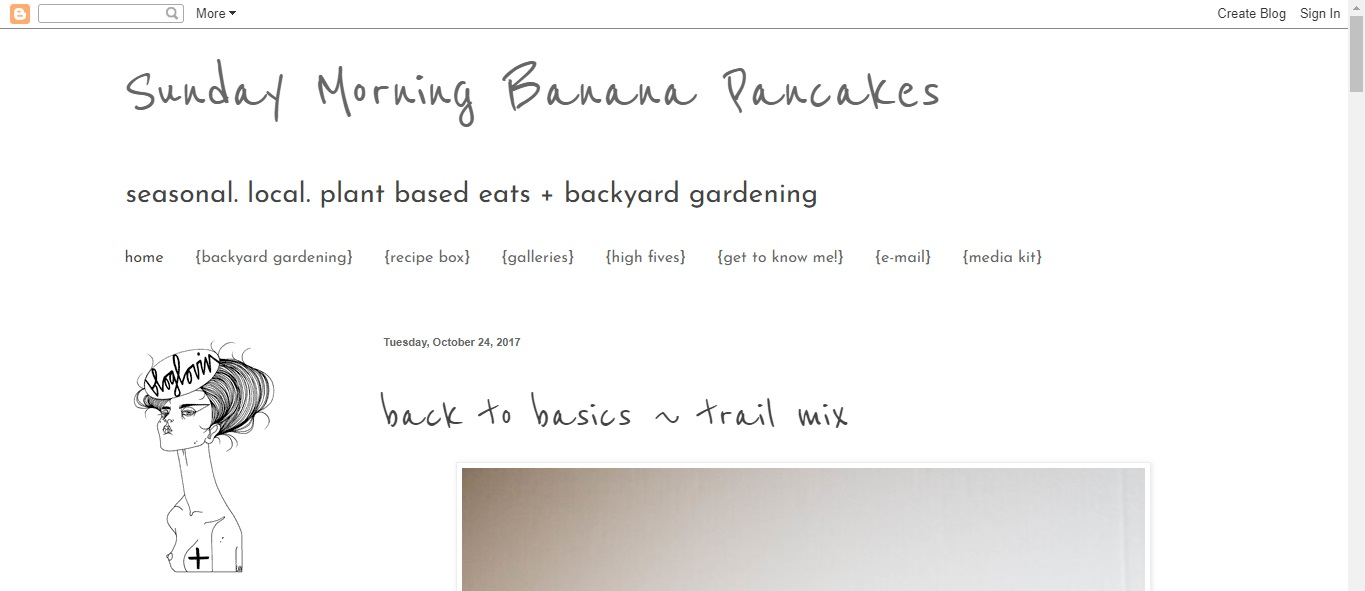 Heather Poire started this site to share seasonal, locally sourced, plant-based recipes. Along with recipes, the blog includes advice on growing your food in your backyard to ensure that your food is as regional and seasonal as possible.
Must-Try Recipe: Back to Basics Trail Mix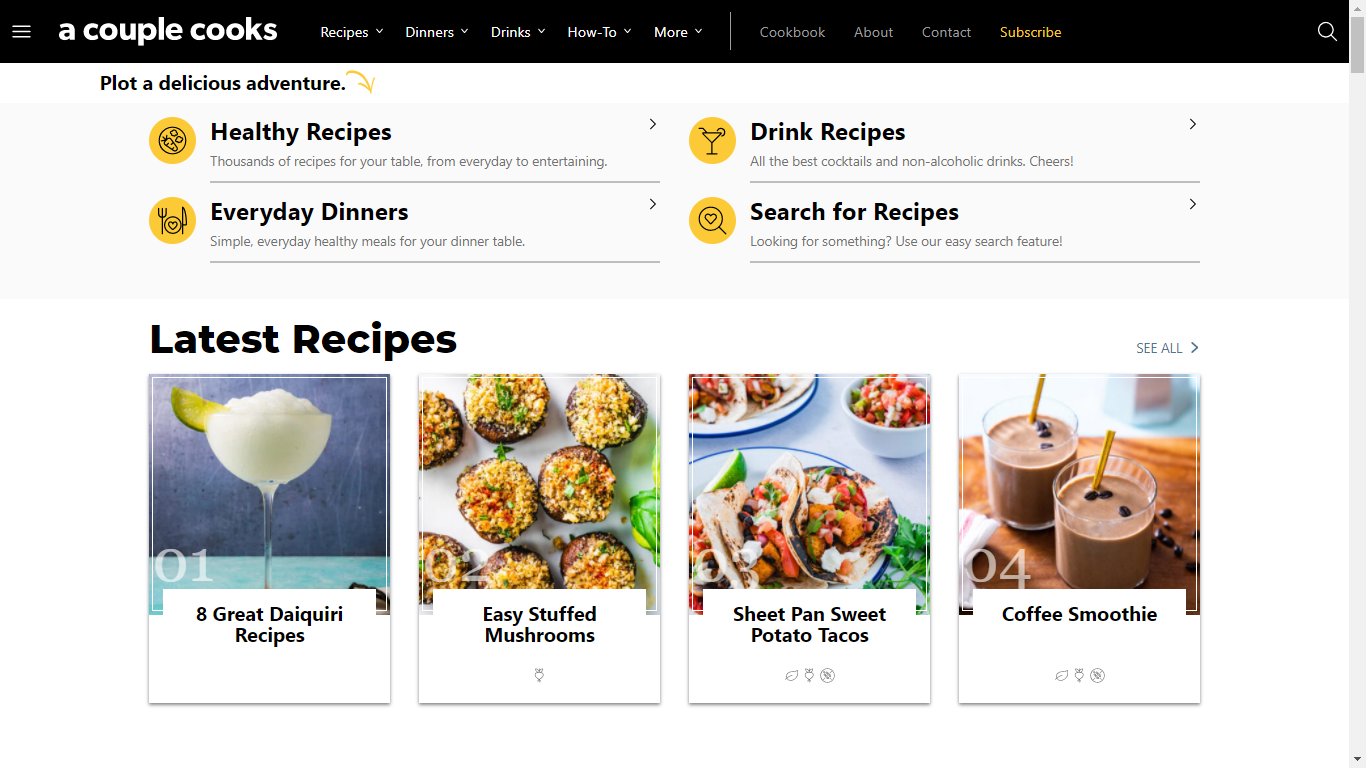 Sonja and Alex Overhiser's blog, A Couple Cooks, shows how making healthy vegetarian and vegan meals may help you build a stronger relationship with your partner. They write about relationships, family, and travel on their blog, in addition to cuisine. Many of their recipes focus on creating healthier or more delectable versions of everyday staples.
Must-Try Recipe: Chocolate Muesli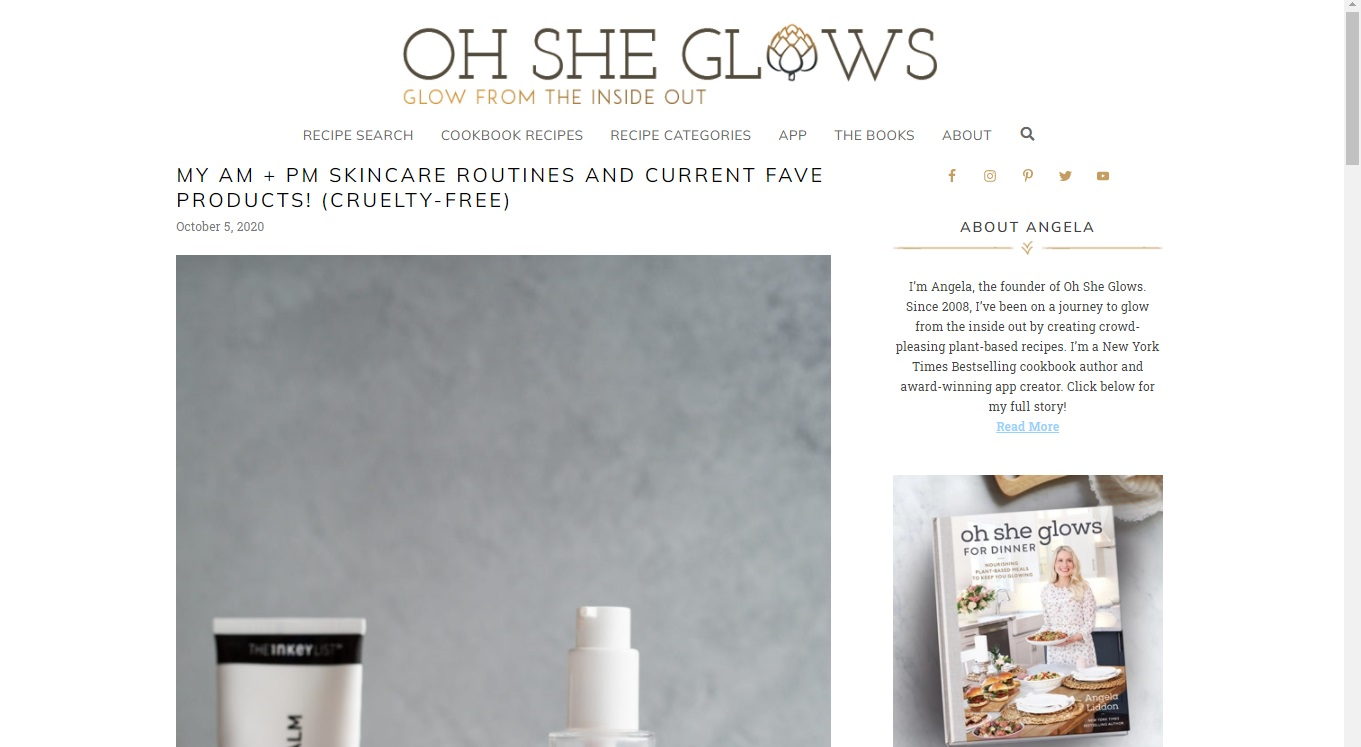 Angela Liddon runs a vegan culinary website similarly targeted at vegans and omnivores. Additionally, most of her recipes use gluten-free, soy-free, and processed-food-free components. She owes her improved health to diet modifications and wants to encourage her readers in accomplishing the same thing.
Must-Try Recipe: One Bowl Pumpkin Chocolate Muffins
Now is the best time to start a healthy food blog.
We hope this post sparked your interest in beginning your healthy food blog. As you can see, the possibilities for what you can create are only limited by your imagination, food passion, and willingness to make the necessary effort to succeed.
You can learn more about the Best Content Niche for your Blog to find other best niches suitable and profitable for you.