There is no use in writing and publishing blogs if they can't reach your target audience, or in other words, the right people to read your content and take action accordingly.
Who are these right people? Right people are those who would want to read my blogs and benefit from them while also contributing to my earnings in one way or the other.
These people are the right target audience that I should be and will be targeting.
How Does Target Audience Contribute To Blog Earning?
My target audience can contribute to my earnings by:
Becoming a regular visitor and adding to my traffic and AdSense Revenue.
Taking my product recommendations and buying from Amazon using my Affiliate Link.
Purchasing Digital Products like eBooks from my Website.
Buying training courses and coaching from my Website.
Hiring me for Content Marketing & SEO Services
Besides these, there are many other ways to make money blogging and get the most out of my ideal followers and readers, aka targetted audiences.
Target Audience: Definition & Benefits
Target Audiences are prospects who share some common characteristics and are most likely to be interested in your products or services.
As a marketer, it is crucial to understand who your target consumers are.
Because instead of just targeting everyone you aim for specific customers or client types that are most profitable.
Some other key benefits of knowing your target consumers are:
You will not waste your time on people who are not going to be interested in what you offer
Your marketing expenditure will bear more fruit.
You can have better messaging that will create more impact because once you know who they are you will know what they crave; allowing you to create content that they can relate with.
Your time will be spent aiming for the best and most valuable prospects only.
You will get better referrals once your audience begins to see the value in what you offer.
Once you have identified the right target market/audience segments, it becomes a lot easier to focus and channel all your marketing efforts, resources, and energies into their direction.
The more information you are able to gather on them, the better you will plan and implement your marketing strategy.
 Target Audience | How to Identify?
Identifying your target audiences (from different segments) will be one of the most challenging but also the most rewarding things that you will include in your marketing campaign.
Challenging because it requires a lot of attention to detail, research, and brainstorming on different market segments as well as audience demographics.
However, (as I see it) when done right the efforts are extremely fruitful.
1. Establish The 'User Persona' Characteristics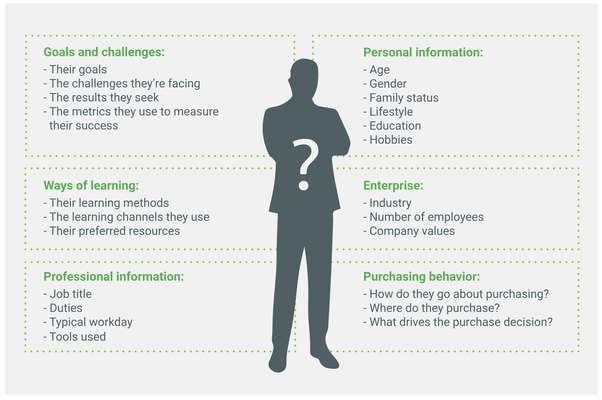 Have you ever imagined your ideal customer? Somebody who would be genuinely interested in what you offer and has the ability to pay for it? The Ideal Customer!
To exactly identify your audience, note down the factors that define them. Such as:
Age: Age Group or Range
Gender: Male, Female or Both
Location: Where they live: City, State, Urban, Rural, Foreign, etc
Education
Profession / Occupation
Earnings: How much money do they make for a living
Marital status: And if they have kids or not
Hobbies & Interests: What they do in their free time
Digital Presence: Places that your consumers are expected to visit or be found online such as Google, Facebook, and other social media platforms and forums like YouTube, Linkedin, Twitter, Quora, Medium, Reddit. There is a whole list of social media sites and platforms; you just need to work on those that your audience uses.
Next: Illustrate Your Findings
After making your notes the next step is to put them in visual form.
You do this by creating a semi-fictitious sketch out of all your findings.
Now: Figure Out Their Challenges & Pain Points | The Best Ways To Do It!
Now that you've identified the various traits of your target audience and you know who they are. The next victory lies in successfully figuring out their pain points.
What are Pain Points?
Pain Points in simple words are problems or challenges that the prospects within your niche face in their personal or professional lives.
The end goal should be to help solve those problems using your content, product, or service.
Write about their specific issues to make your content valuable for them.
How to Identify your Target Audience Pain Points?
Depending on your niche these are the things you can do to identify and know exactly what their pain points are.
Join Communities Within Your Niche
Like Facebook Groups which are great to know what people are saying or complaining about. The more cases you see talking about a certain problem you know what solution they are looking for.
Check out the More Successful Bloggers in Your Niche
To know their most popular posts and content. It's popular for a reason which is it solves problems or in words it caters to specific user pain points. Write on the same topics with your own detailed research, point of view, and analysis. Add value, that's the game!
Review Websites
There is no better place to identify consumer issues than a review website. Read reviews on sites from your niche and see what consumers are complaining about and answer to their problems using your blog. Do your best to answer as many problems as you can and provide as much detail as you can.
Use Google & Pinterest Suggestions
Every time you search a keyword you get some suggestions. Which are terms that match your query or are related to that specific keyword.

I searched the term "Digital Marketing" and I can see Google suggestions where it says 'People Also Ask' with four questions underneath. Now, if people are asking certain questions then why not answer them all using your content.
Quora
The place on the web created for questions & answers; on all kinds of topics and from every niche. Here you will know which questions are most popular and answer them all in your blog. And once done come back and share a link to boost your traffic with real readers.
Now that you know your audience along with their pain points and you are applying all the tactics you have learned; the next thing you should do to further validate your audience and findings are:
2) Use Analytics
You need to keep a check on everything that happens on your website to know where you stand and what activities are taking place. Constant analysis of your content on the following metrics is a must.
a. Website Visitors Quantity & Demographics (Quality)
Quantity of the website traffic is important, but checking the demographic data to evaluate the quality of this traffic is even more crucial.
The demographic information can help us determine the quality of traffic our website is receiving, hence if needed we can re-strategize our overall marketing strategies to target a specific target audience and keep the BS or irrelevant traffic away.
b. Social Media Pages & Website's Activity
Closely monitor all activities on your blog site, and also on your brand pages and niche groups with your social media target audience established on different social media platforms.
Some of the metrics that must be monitored constantly include:
Website and Pages Ranking On SERPs
Landing Pages Getting Most Visitors
Landing Pages Converting Most Visitors
Pages Where Visitors Are Spending More Time
Lead Magnets & CTAs Getting Most Clicks
Most Shared Pages on Social Media
Social Media Platforms Diverting Major Traffic
Pages Having High Bounce Rate Pages
Pages or Blog Posts Naturally Getting Quality Backlinks From Other Websites
Digital Products Being Purchased Or Downloaded Free As Lead Magnets
Demographics of Visitors Purchasing Digital Products Or Downloading Them As Lead Magnets
Demographics of Facebook Page Likes & Group Members
Regular monitoring of these or metrics will help in better understanding consumer behaviour and how they are engaging with the website/blogpost/webpage.
More importantly, these metrics help us evaluate our own performance in terms of the quality of our content and SEO.
After this to better identify the various traits shared by your key audience, you should:
3. Observe Competition
Observing your competitors and understanding their strategy is an essential part of every well-conducted market research; plus one of the best ways to identify a target audience.
Once you know exactly which segment and target audience your competitors are targeting and earning from you can include them also the list of people or segments to target.
The best way to do this is by checking out their social networks in detail to best understand their digital marketing strategy. Check out all the campaigns they are running and the tactics they are using to reach out to their potential customers. Observe the following:
How your competitors are engaging with their social media audiences on various social media platforms and on their website. Sign up to their email list if you have to in order to keep yourself updated with every slight change in their interacting strategy.
Study their existing customers to identify the common traits or characteristics of people using their products or services.
Check out their positioning on different platforms to understand how they are building connections with their audience. This includes knowing every platform where they have a presence and figuring out ways they are using to get people to join a certain community (such as a Facebook group) or 'like' their Facebook page. This will also help in understanding the concerns that are being raised and resolved.
Then study the posts and content they are using to divert their audiences on-page or group traffic to their main website
Use Facebook Ads Library to check out their ads and know what messaging they are using to target their audience.
The Facebook Ads library is a super great tool with many cool features. Somethings really worth mentioning are: 
It Is For Everyone
Anybody can view and search for ads. However, alcohol or gambling ads will not show to the underage or those who are not signed in.
Allows Search By Name, Term, or Page 
Paid ads about social issues and politics will show in keyword searches. However, other advertisements will be accessible only once you visit a Page in the Ads Library
Very Insightful & Informative
It provides information about what is being advertised, who is watching those ads, or the regions where the ad is being watched.
As well as details about how much advertisers are spending or how much is being spent in a certain area or region, plus more information.
To make it great for you let me share some good resources from the topmost industry leaders regarding Facebook Ads Library. Check out the following links to learn the following:
Using of Facebook Ad Library to Find Your Competitors
Doing Competitive Research using the Facebook Ads Library
Building Better Ads With the Facebook Ads Library
Target Audience of  'The Blogging Box' 
Now just to tell you guys how I am doing it!
In short, the target audience of my or any blog site would be people who will find its blog post content most useful.
The blogging box is all about Blogging and teaching people how to blog and generating a full-time income; from multiple streams.
I have classified my target audience into Six different segments:
People who want to start blogging and make money.
Those who already blogging and now want to earn from it.
Natural Born Writers; who know nothing about blogging, its benefits, or how to earn from it.
Professionals or Industry Experts especially from niches that are most profitable for blogging such as beauty, fashion, health & fitness, personal finance, etc
Hobbyists or Subject Matter Experts like pet or dog lovers, foodies, film fanatics, etc.
Small-Medium Businesses who would want to benefit from content marketing.
User Persona Characteristics | The Blogging Box Target Groups
Age: Primary Audience ranges from 20 to 45. The best candidates are in their thirties.
Gender: Both
Location: Ideally located in those US states which are considered best for business.
Education: At least graduate or masters
Profession / Occupation: All Size Business Owners, Industry and Subject Matter Experts
Earnings: High. Or High-end Medium
Marital status: The majority are married and have school-going or younger kids.
Hobbies & Interests: Reading & Writing, Travel, Food, Fashion, Investments & Finance, Health & Fitness.
Digital Presence: Facebook, YouTube, Linkedin, Instagram, Quora, Reddit, Twitter, Medium.
Target Audience Analysis | Why Do I Want What I Want?
1) Age
There is a reason that I am interested in targeting people who are ideally in their thirties and not somebody much younger or older.
A thirty-year-old would be a more mature individual with decent work or industry experience, and more focused on making money (considering factors such as marriage, kids, and family responsibility) than compared to a twenty-year-old.
And definitely, less responsibility with more energy and time in hand compared to a 45-year-old.
2) Education 
If they are graduates or have done their masters then there are better chances of them being intellectual readers plus having a decent job with a good salary. This factor determines that they would be able to afford my eBooks, coaching, or online courses compared to somebody with less education and salary.
Hence, this level of education has better chances of being able to invest in their blog if they like my idea.
3) Profession
If my reader owns a business then there are good chances that they will be interested in things like content marketing and lead generation.
They could be interested in increasing their website traffic. Or if they are already getting traffic then maybe they would want to increase their conversions which means visitors providing their contact information and turning into leads.
Once these business owners know how these things work then they have the option to either do it all by themselves or if they are not the DIY like the majority then they are welcome to engage my services at a decently affordable price.
If my reader is an industry or subject matter expert then even that makes them a great candidate who can learn the concept of blogging by following my blog and work towards starting own to generate income from day one.
4) Income Level
Having better income results in decent savings. Which may allow my reader to invest some money in their blog and generate an income much faster.
Plus people who are generally able to save more money can completely let go of their job and focus on making that passive income that everybody dreams of having.
5) Marital Status
If they are married it means they have responsibilities of wife and kids with more focus and determination to succeed. Then there are mothers who want to stay at home to attend to their kids for which they need an income. This thought actually gave birth to the concept of mom bloggers twenty years ago in 2002.
6) Location 
If they are located in a place or a US State which has a good success rate for businesses them that automatically improves their chances of success, earning a better profit, and eventually chances of investing back into their business by engaging 'The Blogging Box' for their content marketing and SEO.
7) Hobbies
Being a hobbyist means you are passionate about something. And if that something falls in a profitable niche then it means they could really benefit from reading my blogs and then thank me later once they are successful 😉
However, if they are passionate about a hobby then they should have sufficient experience of it. And if their hobby is popular such as reading books, gardening, or video games; then these are some great niches that give them an edge over others.
Other Major Factors To Better Define Your Target Audience
1) Information Source
Where does your audience get their information from? Is it word of mouth? Social Media? Blogs? Google? Newspapers & Magazines?
This one detail can help us identify the platforms where we can reach our intended audiences or where they can find us.
2) Communication Method
This is about identifying the communication method that they are accustomed to and are comfortable using.
I will be using the 'Whatsapp' button feature on my Blog site and the Facebook page. Plus tools like email marketing to ensure that my audience and subscribers are informed every time I publish something.
3) Mindset
How do they think? What kind of personality do they have? What attitude do they carry? Their preferences, values, the way they live, react and behave to certain things tells me a lot about what would appeal to them and what would not.
Realizing and noting down the little things that drive their decisions is very important to create a better marketing message that would generate more effective results.
Priorities: Things that are most important to them. They could be personal or professional goals. By knowing what they really want in life and what they are willing to let go; tells a lot about them making my approach and chances of success much better.
4) Driving Force
The factors that drive their decision-making. Things that push them to click on an offer and buy something.
This information can really help in enhancing my existing strategy to make them convert (for their own good) much more easily. I will be able to use better messaging to create the impact that would drive their decision.
5) Past Experiences
If I know what experiences they have had in the past with my other competitors then I would know the things that they liked as well as those that left a bad impression on them.
Knowing the mistakes that others made and the things that did not work out or where my competitors lacked gives me more clarity of the ground reality as well as my path to success by filling in those gaps in my approach.
What is My Approach?
To ensure that I write or create Valuable & Quality Content, I have made it my priority to start with my readers in mind every single time.
First, I try my best to make sure that my content is helpful and valuable in terms of the knowledge and information that it provides.
Secondly, my posts should give them a direction and action plan for their next move.
And thirdly, my topic and blog post should not miss out on any important detail in regards to user intent or any question that the user may have.
For that, I even add relevant external links of useful information to add more value and help my readers save the precious time they would otherwise spend thinking and searching for more relevant information on Google.
Conclusion | Target Audience
To have a competitive advantage; target marketing to the right audience is crucial. A good amount of target audience research will allow you to be able to create marketing messages that will have better chances of converting your social media audience and website visitors into leads and then eventually into customers.
Data collection of real consumers can prepare a better user persona. You can find your target audience on social media where you need to connect with them and divert them to your website with some fresh and great pieces of content.
Understanding your competitors targeting approach; by observing their social media marketer activities on different social media sites; plus studying their advertising campaign and advertising efforts that they use to sell their company's products to a particular audience will give you the insight needed to create customized content with the right brand message.